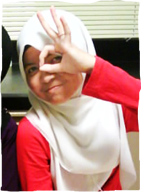 Hi. Meet me, Miss Nureen. I am 25 years old, jobless and penniless. Sometimes I could be an adorable little angel, and yet sometimes I could be a vicious evil devil, depending on how you treat me.
Get to know me, I'm adorable. Really.. 😜
Have anything to say? Leave your message below.
Don't worry, I won't bite. c;